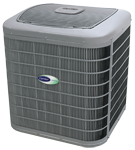 Yarnell Heating & Air, LLC
Yarnell Heating & Air, LLC is a locally veteran-owned company since 1999. Bob Yarnell retired from the Air Force as a Superintendent of Fighter Aircraft Repairs, SMSgt, USAF and returned home to Indiana to start his HVAC business. Throughout his illustrious career he has earned Associates Degrees in Metals Technology & Sheet Metal Repairs.
Our goal as a company is to deliver quality work and expertise for a fair value. We are committed to doing the job right the first time and work toward customer satisfaction with a straightforward evaluation. We will provide you with an honest opinion and the best possible options available for your current situation. If systems do require upgrading or replacement, we are knowledgeable on an ever-changing industry. Our specialties are but not limited to gas/ electric furnaces, heat pumps and air conditioners for residential and commercial properties.